Willkommen am LEM
Das Laboratorium für Elektronenmikroskopie ist eine zentrale Einrichtung des Karlsruher Instituts für Technologie (KIT).
Für die Institute des KIT und externe Auftraggeber führen wir elektronenmikroskopische Servicearbeiten durch.
Unsere Forschungsaktivitäten liegen in folgenden Bereichen
Anwendung der Elektronenmikroskopie auf Fragestellung
in de Festkörperphysik, Materialforschung,
Nanotechnologie und Biologie
Methodenentwicklung in der Elektronenmikroskopie
Elektronenoptik
Nanostrukturieru

Welcome to the Laboratory for Electron Microscopy
The Laboratory for Electron Microscopy is a central facility of the Karlsruhe Institute of Technology (KIT).
We carry out electron-microscopic service investigations for other institutes of the Karlsruhe
Institute of Technology (KIT) and external customers.
Our research activities are focused on
nanotechnology and biology
methodical developments in electron microscopy
Dr.-Ing. Yolita Eggeler
will be Junior Professor at LEM starting 1.10.2020.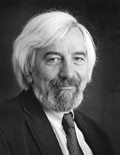 Maximilan Haider
receives 2020 Kavli Price in Nanosciences
KIT press release on Kavli Price
Felix Jung was awarded the poster price of the electron microscopy symposium at the European Materials Research Society (EMRS) spring meeting 2019 in Nizza
Dr. Yonghe Li was awarded a postdoc scholarship by the Humboldt Foundation
Martin Obermair won a prize for his talk at the 19. International Microscopy Congress (IMC19) in Sydney.
New FIB-SEM system went in operation
Open PHD - master and bachelor topics
More details in the descriptions.
More details