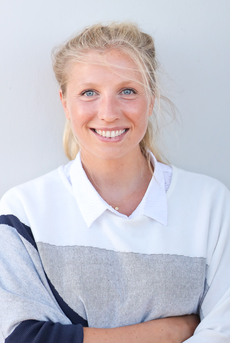 TT.-Prof. Dr.-Ing. Yolita Eggeler
Tenure-Track-Professorin für Elektronenmikroskopie im Bereich 5

Gruppenleitung

Gruppe:

Microscopy of Nanoscale Structures & Mechanisms (MNM)

Raum:

Geb. 30.25, R. 215

Tel.:

+49 721 608 - 4 3724

Fax:

+49 721 608 - 4 3721

yolita eggeler∂ kit edu
Lebenslauf
seit 10.2020

W1 (tt) Professorin für Elektronenmikroskopie

Karlsruher Institut für Technologie (KIT) / Fakultät Physik

Laboratorium für Elektronenmikroskopie (LEM)

Excellenzclusterförderung: 3D Matter made to order (3DMM2O)

Gruppenleitung: Microscopy of Nanoscale Structures & Mechanisms (MNM)

Karlsruhe, DE

10.2018 - 10.2020

Postdoc

University of California, Santa Barbara (UCSB), USA / Materials Department

Forschungsgruppen: Prof. D.S. Gianola und Prof. T.M. Pollock

Stipendium: Feodor Lynen Forschungsstipendium von der Alexander von Humboldt Stiftung

Forschungsthemen: Magentische Materialien / Hochtemperatur Materialien

Santa Barbara,

CA, USA

01.2014 - 10.2018

Promotion

Friedrich-Alexander-Universität Erlangen-Nürnberg (FAU)

Institut für Mirko- und Nanostrukturforschung (IMN)

Doktorarbeitstitel: Nano- und mikroskalige Strukturbildungsproyesse in einkristallinen Ni- und Co-basis Superlegierungen

Betreuer: Prof. E. Spiecker, verteidigt am: 25.07.2018

Ausgezeichnet vom Bayrischen Staatsministerium für Wissenschaft und Kunst

Erlangen, DE
10.2011 - 12.2013

Master of Science

Friedrich-Alexander-Universität Erlangen-Nürnberg (FAU)

Materialwissenschaften und Werkstofftechnik

Erlangen, DE
Publikationen von Yolita Eggeler können Sie anhand ihres Google Scholar Accounts nachvollziehen.
MNM Arbeitsgruppe am LEM
Prof. Dr.-Ing. Yolita Maria Eggeler
Die neue Arbeitsgruppe MNM (Microscopy of Nanoscale Structures & Mechanism (MNM)) gehört zum zentralen Laboratorium für Elektronenmikroskopie (LEM) des KIT. MNM befasst sich mit dem Einsatz der hochauflösenden analytischen Raster- und Durchstrahlungselektronenmikroskopie zur Identifizierung neuer Materialstrukturen, zur Aufklärung unbekannter Strukturbildungs- und Verformungsmechanismen und zur Erforschung des Zusammenhangs funktioneller Eigenschaften mit der Nano/Mikrostruktur von Struktur- und Funktionswerkstoffen. MNM arbeitet auch an neuen Materialstrukturen, die im Exzellenzcluster 3D Matter Made to Order (3DMM2O) untersucht werden. MNM steht dabei in engem Kontakt mit anderen Materialforschern des KIT und von anderen Universitäten und Forschungseinrichtungen im In- und Ausland.
Hier geht es zur MNM Homepage --> Mehr Infos
Awards, Preise und Stipendien
10.2019

Feodor-Lynen-Forschungsstipendium der Humboldt-Stiftung

Host: Prof. Daniel Gianola, (UCSB)

05.2019

Bavarian State Ministry for Science and Art

Ingenieurpreis für herausragende Doktorarbeit 2019

07.2018

Gender and Diversity (FAU)

Preis beim Studentenfotowettbewerb "Diversity"

09.2015

Microscopy Congress 2015, Göttingen

05.2014

EUROSUPERALLOY2014, St. Giron, Frankreich

10.2012 - 04.2013

International Center for Materials Research (ICMR)

Research Grant, Santa Barbara, USA

08.2005 - 06.2006

Rotary International

Stipendium für ein Schüleraustauschjahr in Gurnee, Illinois, USA
Wissenschaftliche Gesellschaften & Gremien