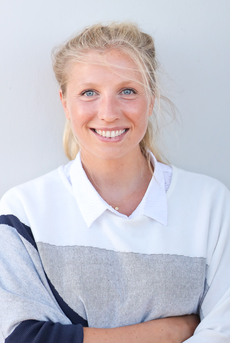 TT.-Prof. Dr.-Ing. Yolita Eggeler
Tenure-Track Professor of Electron Microscopy in Area 5

Group leader

group:

Microscopy of Nanoscale Structures & Mechanisms (MNM)

office hours:

Tuesday 2-3 p.m. or by appointment

room:

Bldg. 30.25, R. 215

phone:

+49 721 608 - 4 3724

fax:

+49 721 608 - 4 3721

yolita eggeler∂ kit edu
Curriculum Vitae
since 10.2020

W1 (tt) Professor for Electron Microscopy

Karlsruhe Institute of Technology (KIT) / Faculty of Physics

Laboratory for Electron Microscopy (LEM)

Supported by the cluster of excellence: 3D Matter Made to order (3DMM2O)

Advisor of the research group: Microscopy of Nanoscale Structures & Mechanism (MNM)

Karlsruhe,

Germany

10.2018 - 10.2020

Postdoctoral fellow

University of California, Santa Barbara (UCSB) ― Materials Department

Research groups: Prof. D.S. Gianola & Prof. T.M. Pollock

Feodor Lynen Research Fellowship from the Alexander von Humboldt Foundation

Magnetic Heusler Compounds, High Temperature Materials

Santa Barbara,

CA, USA

01.2014 - 10.2018

PhD

Friedrich-Alexander-University (FAU) Erlangen-Nuremberg / Materials Science Department

Institute for Micro- und Nanostructure Research (IMN)

Thesis: Nano-and Microstructural Evolution in Ni-and Co-based Single Crystal Superalloys

Advisor: Prof. E. Spiecker, defense: 25.07.2018

Bavarian State Ministry of Science Award for outstanding thesis

Erlangen,

Germany

10.2011 - 12.2013

Master of Science

Friedrich-Alexander-University (FAU) Erlangen-Nuremberg / Materials Science Department

Material sciences and materials engineering

Erlangen,

Germany
You can follow up Yolita's publications via her Google Scholar account.
New Research Group MNM @ LEM
Prof. Dr.-Ing. Yolita Maria Eggeler
The new research group MNM (Microscopy of Nanoscale Structures & Mechanism (MNM)) belongs to the central laboratory for electron microscopy (LEM) at KIT. MNM uses analytical high resolution scanning and transmission electron microscopy methods, to identify the structures of new functional and structural materials. The objectives are to reveal unknown processes which govern the evolution and deformation of micro- and nanostructures and to discover relations between nano- and microstructures and functional properties. Within the excellence cluster 3D Matter Made to Order (3DMM2O) MNM works on new materials, which are engineered and printed from the nano and micro scales. MNM collaborates close with material researchers from KIT and with universities and research institutes from all over the world.
Access the MNM Hompage here --> More details
Yolita Eggeler and her research at LEM
In this interview, Yolita talks about her research of the nano cosmos of materials utilizing electron microscopy to gain a better understanding of the materials. This increased understanding allows researchers to design new materials for topics like energy, environment, mobility or health. In addition, she talks about how she benefits from being part of the Cluster of Excellence 3DMM2O and what her work means for young women who also want to go in the scientific direction.
Awards, Prizes and Fellowships
10.2019
Feodor Lynen Research Fellowship of the Humboldt Foundation
• Host: Prof. Daniel Gianola, (UCSB)
05.2019
Bavarian State Ministry for Science and Art
• Engineering prize for outstanding doctoral thesis 2019
07.2018
Gender und Diversity (FAU)
• Prize at student photo contest "Diversity"
09.2015
Microscopy Congress 2015, Göttingen
• Best poster award
05.2014
EUROSUPERALLOY2014, St.Giron, France
• Best poster award
10.2008 - 10.2011
International Center for Materials Research (ICMR)
• Research Grant, Santa Barbara, USA
08.2005 - 06.2006
Rotary International
• Scholarship for a student exchange year in Gurnee, Illinois, USA